VIOLENT FAR-RIGHT EXTREMISTS ONLY BENEFIT MEDIA ATTENTION. They're trying to trigger you and want you to act on your anger. It validates their victim mentality. And makes them feel justified.
THEY WANT TO BE HATED AND THEY WANT YOU TO GET VIOLENT. But most of them did not join these groups because they hate people. Many are trying to fill a void in their own lives. And for many, it is themselves whom they hate.
AVOID ARGUING THE IDEOLOGY HEAD-ON. You won't change anyone's mind in the middle of a rally. Debate often devolves into shouting matches and that only puts you at risk.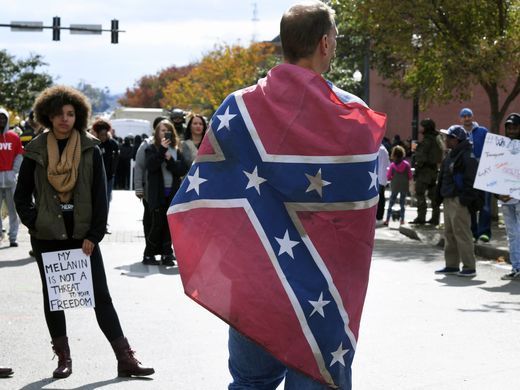 IF YOU ARE COUNTER-PROTESTING AND USING SIGNS, USE SIMPLE MESSAGES. But please consider keeping it positive, for example, There Is Life After Hate.
START A FUNDRAISER OR COUNTER-RALLY. Initiate a fundraising campaign to deter a rally in the first place. Ask community members to donate a dollar to a civil rights charity for every far-right extremist marching. You can also launch a counter-rally. The most successful of these are usually held in another part of town and focus on something positive. If you don't like what you're hearing, change the conversation.
UNITE WITH OTHER COMMUNITY GROUPS AND LAW ENFORCEMENT. Make sure you connect with youth groups, churches and other civil rights organizations. Remember, there is strength in numbers. Police are likely already aware of any upcoming rallies, so make sure you communicate your strategies with any departments involved.
If you, or someone you know, are ready to leave racism and violence behind, we're ready to help.