Create a lasting impact through a monthly donation!
Recurring support helps us meet the ever-growing demand for Life After Hate's ExitUSA™ supportive services and other programming. Join a dedicated group of supporters who give monthly to ensure those grappling with violent hate groups receive the support they desperately need. Sign up for monthly giving:
On Life After Hate's website:
Click on our donate button

Select or enter the amount you wish to give

Click on monthly or one-time button

Click on the heart to the left of "Give in honor of someone" under the continue button

The click on continue button to complete your donation through GiveLively's Small Token platform.
Through the mail:
Download and complete our mail in donation form (link)

Mail in the completed form to:
Life After Hate
6650 W. State St. Ste #304
Milwaukee, WI 53213, U.S.A.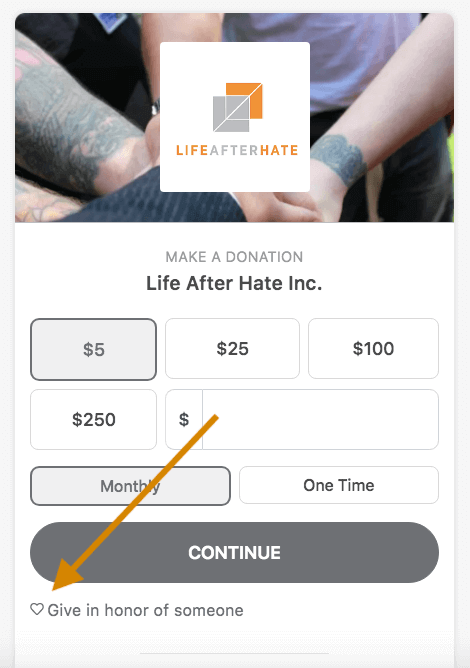 On other giving platforms:
Simply make your donation to Life After Hate and forward your email receipt to Donor_support@lifeafterhate.org. You can give through PayPal, Facebook, or your Workplace Giving Program.
In your email, please include the name and address or email of the person you would like notified, as well as the name of the honoree. We will send a written or e-notification of your gift to the honoree or to the designated friend or family member of the honoree.
If you would like to coordinate a number of gifts in memory of a Life After Hate supporter who has recently passed, please direct potential donors to this page. The process will remain the same.
Any inquiries can be directed to Donor_support@lifeafterhate.org. Thank you!