Videos | Resources | What's New
Over the last year Life After Hate has gone through a shift in leadership and put forth a full team effort to enhance and strengthen LAH's mission. This year Life After Hate's strategic plan will focus on bolstering Exit USA programing, developing innovative initiatives to engage with violent far right extremists looking to exit, and centering LAH staff to promote professional growth and a healthy work culture. This year we are also committed to keeping you all informed and involved because this work wouldn't be possible without your support.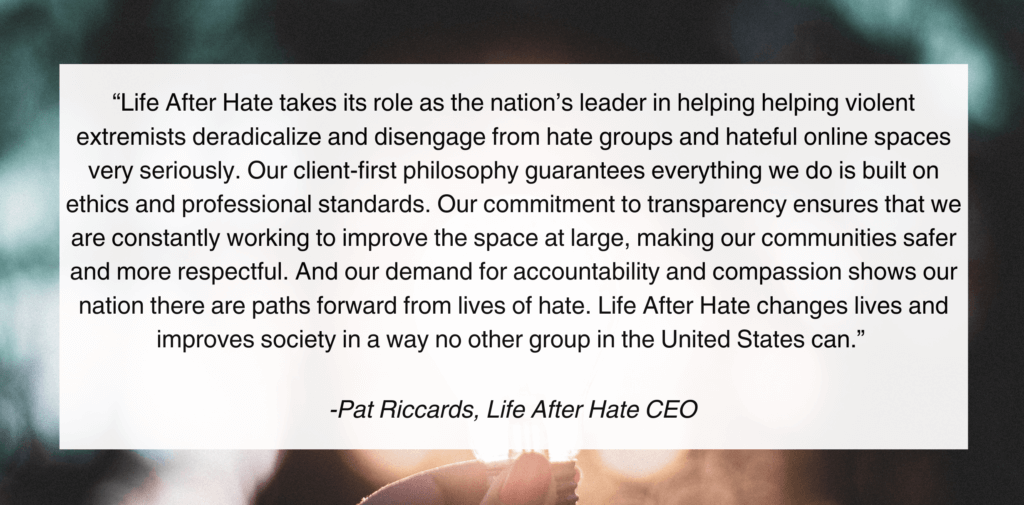 #CancelHate
The increasing influence of social media has resulted in a rise in mental health concerns and a surge in online hate. We are working to #CancelHate in partnership with Pure Square.
Tell us how you will commit to #CancelHate and Pure Square will donate $1.00 for every pledge to help us help individuals disengage from violent far-right hate groups and hateful online spaces.

To learn more by watch Pure Square's Facebook LIVE featuring Life After Hate's Patrick Riccard or check out this featured blog series.


Get to know Exit USA:

As we move into 2023 with a heightened focus on strengthening Exist USA programing it has been important to spend the time getting to know program constituents and understanding impact through a client survey.
About 60% of our clients are Exiting Individuals – people who are or were involved in violent far right extremist movements and about 40% are adults who have family members, spouses, or friends actively involved in VFRE.
Many Exiting Individuals reported they learned about Life After Hate after hearing a Former's story and the mention of LAH in the media like in the Netflix documentary, "Web of Make Believe", YouTube videos, books, or other publications.
One of the most common reasons a friend, parent, or significant other reaches out to LAH for help is because an act of VFRE-related violence receives a lot of media coverage and they're worried about their loved one being the next mass shooter or they realize that their loved one has a lot of the same warning signs or beliefs as an ideologically-motivated offender.
Life After Hate in the Media:
"Before Samantha could escape the white supremacist hate group she joined almost a year prior, she had to accept that leaving was more important to her than living.
It's common for people to remain in hate groups out of fear that they will never again be accepted by people outside of the group and leaders often exploit that fear by threatening to expose members who attempt to leave, experts say.
"We'd like to believe that we are a society of rehabilitation and second chances," said Patrick Riccards, executive director of Life After Hate, a nonprofit founded by former violent extremists that helps people interested in leaving. "But violent, far-right extremism is one of those areas where we don't seem to be as enlightened. When you look at what individuals of the violent far right are capable of and have done, we largely believe as a society that they can't be rehabilitated."