Bookended by the attack on Stoneman Douglas High School in Parkland in February and the shooting at a Pittsburgh synagogue in October, 2018 was one of the deadliest years at the hands of domestic extremists.
And according to the Anti-Defamation League — which this week released its annual report on Murder and Extremism in the United States — the violent far-right was responsible for nearly all of the 50 killings last year: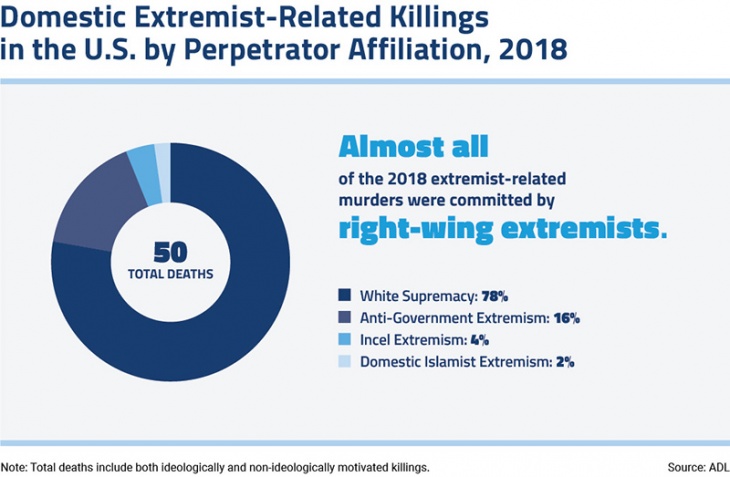 Right-wing extremists were responsible for 49 (98 percent) of the 50 domestic extremist-related killings in 2018, with white supremacists alone accounting for 39 (78 percent) of those murders.
While it's important to help interpret this information in a way that makes it relevant to the supporters of Life After Hate, who are looking to better understand our work, it's equally important for people to understand that violent extremism effects us all, no matter how distant it can sometimes seem.
Ultimately, the ADL's report aligns with our own experience as an organization, and with what we are seeing and hearing all around the country from professionals, families, significant others and those seeking help from us. When we put our ear to the ground the message we deliver from that is attuned to what others are seeing, and that reminds us that we are a vital resource.
While not all of these attacks are considered "ideologically driven," the ADL notes an important distinction in explaining its methodology:
"Extreme causes often attract adherents with violent tendencies—tendencies that are reflected not only in the violence that adherents commit for their cause, but also the violence they commit against others—including rivals, spouses, children and acquaintances."
We agree. White supremacy and other far-right ideologies are always moving toward violence, and if left unchecked, these movements are certain to claim lives.
That 2018 was the fourth-deadliest since 1970 — behind only 1995 (which saw 184 lives lost, most because of the Oklahoma City bombing), 2016 (72 lives lost) and 2015 (70 lives lost) — should come as no surprise.
Warning signs are almost always there.
Take for example October's deadly shooting at the Tree of Life Synagogue where 11 people were killed. In the preceding years, anti-Semitism was on the rise, and the shooter himself, broadcast his intent on social media.
Our own data comports with the ADL's findings. Between August 2017 — punctuated by the lethal attack in Charlottesville — and November 2018, Life After Hate and its ExitUSA program took on 135 individual and family support cases, representing 30 states.
While we continue to help members of the violent far-right disengage and deradicalize and safely return to society, we recognize that our work needs the support of civil society as a whole.
We must become active bystanders when we see intolerance, and we must always protect the dignity of those being harmed.