Thoughts and prayers — it's what too many of us default to because we've stopped thinking critically about gun violence.
It's what many of us sought refuge behind last Friday, when a teenager opened fire inside his school, this time killing eight students and two teachers at Sante Fe High School.
But it's not the default for everyone.
Two days before Kelly Clarkson would make an impassioned plea during the Billboard Music Awards — "So why don't we not do a moment of silence? Why don't we do a moment of action?" — a Marjory Stoneman Douglas High School student activist, Sarah Chadwick, reprised the argument she and others made after the Parkland mass shooting.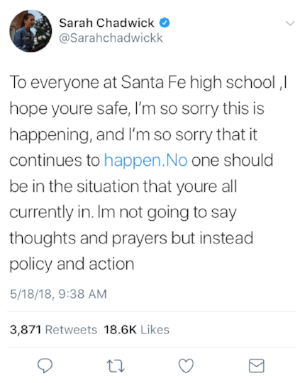 "To everyone at Sante Fe high school, I hope youre safe," Chadwick tweeted within hours of the Texas shooting. "I'm so sorry this is happening, and I'm so sorry that it continues to happen. No one should be in the situation that youre all currently in.
"Im not going to say thoughts and prayers but instead policy and action."
Make no mistake, thoughts and prayers can be well-intentioned. But policy and action take courage and conviction.
Leigh Giles-Brown, one of our partners and the founder of Races for Peace, set the example for the nation to follow when she said, "I could no longer just mourn," in the wake of the Charleston, South Carolina shooting in 2015 that killed nine black parishioners.
Instead she took action.
Do not become paralyzed by the divisiveness of America's gun debate. "Policy and action" doesn't have to be a zero-sum game.
That's the type of fake news used to divide us; used to suggest that laws and policy leave behind winners and losers.
We can't allow that. We can't resign ourselves to the inevitability of acts of inexplicable violence, and then blame someone — or something — else for them.
Take responsibility for your neighbor, not just yourself. Take responsibility for you community, not just your family.
If you write a letter to your elected official — follow up on it. Don't stop at Election Day. Get engaged and stay engaged.
Races for Peace strives to end gun violence by strengthening communities. Life After Hate is successful because we unite communities, not divide them further.
There really is no act too large or small. There is only inaction. And only inaction can render your thoughts and prayers useless.